Breast Lift (Mastopexy) Surgery
Breast lift surgery (mastopexy) removes excess skin and tightens loose tissues to restore youthful, attractive breasts. It is an ideal procedure to rejuvenate the look and feel of the breasts for women who have experienced aging, pregnancy, or weight fluctuations. This procedure not only restores more youthful breasts, but it also helps women gain a positive self-image and increase their confidence. Sometimes a lift also requires an implant to achieve a desired result. Breast lift has the following effects:
Enhanced breast shape: The breast tissues are reshaped into more attractive contours to eliminate sagging, pendulous breasts. After breast lift surgery, you won't have to be embarrassed by elongated, misshapen breasts.
Increased breast firmness: As flabby, stretched tissues are removed and the remaining tissues are tightened, the breasts will regain a more natural, youthful firmness
Improved breast projection: During a breast lift nipples and areolas that point downward can be repositioned to a more upward projection along with the rest of the breast tissue for a more attractive silhouette.
Types of Breast Lifts
Breast lift surgery technique is dependent upon the amount of extra breast skin as well as the position of the nipple. It could be as simple as cutting an oval around the nipple, or it may require a vertical incision on the breast, or most commonly, it involves both a vertical and transverse incision on the breast. Through these incisions the breast, nipple, and breast skin are reshaped. The different types of breast lift are described below.
Periarolar: This lift is reserved for patients who only need 1-2 cm of breast lift. Advantages are that the a large areola can be reduced in size and the scar is hidden within the margins of the areola. Disadvantages are that it can only lift the nipple 1-2 cm and it has a flattening effect on breast shape.It should not be performed in someone whose nipples point downward.
Periarolar Lift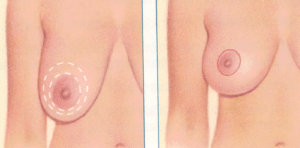 Vertical (Lollipop) Lift: This breast lift can be performed in patients who need more lift than the periareolar lift can achieve, typically 2-6 cm of lift. Advantages are that the areola can be reduced and one achieves a better lift and more cone shape to the breast. The disadvantage would be the visible vertical scar.
Vertical (Lollipop) Lift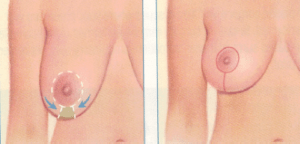 Inverted T (Wise Pattern) Lift: This is the most powerful breast lift as it can lift the nipple >6 cm. Advantages are that one can dictate exactly the new shape of the breast, removing skin in both the vertical and transverse dimension. Disadvantages would be the visible scarring(although the transverse scar is usually not visible) and the greater extent of surgery.
Inverted T (Wise Pattern) Lift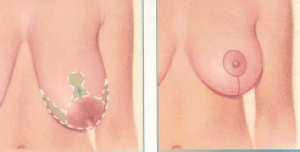 Schedule a breast lift consultation with Dr. Graham
Dr. Graham is a skilled surgeon, board certified by The American Board of Plastic Surgery. His background includes both general surgery and plastic surgery. In both of these fields he has had extensive experience with breast surgery. The majority of his plastic surgery training was in breast and body contouring surgery. He takes pride in his breast lift technique as it achieves breast fullness even in the upper breast, which often allows him to avoid placing implants.
Breast Lift Frequently Asked Questions
Please refer to the following form published by the American Society of Plastic Surgeons
Dr. Graham performs breast lift surgery with the patient under general anesthesia. All procedures are supervised by a board-certified anesthesiologist to ensure the highest degree of patient safety.
Like many surgical procedures, some pain and discomfort are expected with breast lift. However, prescribed medications and wearing a support bra will drastically diminish the amount of discomfort that exists. The pain experienced from a breast lift procedure can range from sharp discomfort to dull soreness to a heavy pressure similar to weight laying on your chest. Your breasts may feel sensitive or even numb for some time after breast lift due to manipulation of breast tissue.
The results from breast lift are generally permanent unless an adverse reaction or complication develops. The breasts will, of course, continue to age naturally after the procedure. To maintain optimum results, patients should refrain from gaining significant weight and need to wear the proper bras for support.
This is dependent on the type of work you perform. Many patients with office jobs only require a week or less. However, patients who perform heavy labor may require 4-6 weeks to recover. You will not be able to do any heavy lifting for at least 4 weeks. You can drive within the first week when you are comfortable and off of narcotics.
The average US price for a breast lift is $7000-8000. Dr. Graham's pricing can be found
here
.