What is breast reduction surgery?
Breast reduction, technically known as reduction mammaplasty, is the removal of breast tissues. This type of breast surgery is designed for women with large, pendulous breasts who experience a variety of medical problems caused by excessive weight and low center gravity of their breasts. These problems include back and neck pain, skin irritation, skeletal deformities, arm and hand numbness, and breathing problems. Disproportionally large and heavy breasts may also diminish a women's sense of self-esteem and independence as it makes fitting into clothing, participating in sports, etc. difficult.
The surgical breast reduction procedure removes fat, glandular tissue, and skin from the breasts, making them smaller, lighter, and firmer. It can also reduce the size of the areola, the darker skin surrounding the nipple. The goal is to give the woman smaller, better-shaped breasts in proportion with the rest of her body.
Breast Reduction is truly a life changing operation with a very high patient satisfaction. You can see some examples of Dr. Graham's breast reduction photos here.
Breast reduction candidates
Breast reduction is usually performed for physical relief rather than cosmetic improvement. Most women who have the surgery are troubled by very large, sagging breasts that restrict their activities and cause them physical discomfort. In most cases, breast reduction isn't performed until a woman's breasts are fully developed; however, it can be done earlier if large breasts are causing serious physical discomfort or psychological distress. The best candidates are those who are at an ideal body weight and are mature enough to fully understand the procedure and have realistic expectations about the cosmetic results. Traditionally, breast reduction is not recommended for women who intend to breast-feed.
Dr. Graham is an skilled plastic surgeon, board certified by The American Board of Plastic Surgery. Dr. Graham's Plastic Surgery training was primarily in the areas of breast and body contouring surgery. He has extensive experience with breast reduction surgery.
Breast reduction procedure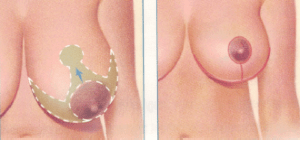 Diverse methods of skin incision and excision existed in the early reports of breast reduction. Some of them were improvised during the surgery, others were planned based on empiric knowledge, and a few followed complicated geometric calculations. In 1956, Robert Wise published on his experience with a refined pattern that he had previously designed in the form of a key-hole. The Wise pattern has been the workhorse for skin incision for breast reduction for several decades and this is the pattern Dr. Graham utilizes. It leaves an anchor-shaped scar in a periareolar circle, a vertical scar in the midline of the inferior mammary hemisphere, and a curvilinear scar along the inframammary fold that follows the curved shape of the inferior pole of the breast. The nipple is always in a better position and the breast size usually ends up as a small D or full C cup. Usually the final breast reduction scar looks like an upside down T or anchor. However, this scar is an easy trade for the smaller, more youthful appearance of the breast and nipple.
With regard to the pattern of glandular resection, the different techniques used in breast reduction are identified by the segment of the breast that is left unresected, which becomes the structure and support of the new breast. This "pedicle" also contains the vascular supply that will nourish the breast mound, including the nipple-areola complex. Various techniques include superior, superomedial, medial, inferior, lateral and central pedicles. Bipedicle techniques, which include either superior and inferior or lateral and medial aspects of the breast, are also used. Dr. Graham utilizes a superomedial pedicle due to its better shape and blood supply compared to the other types of breast reduction pedicle.
Dr. Graham performs breast reduction surgery with the patient under general anesthesia. All procedures are supervised by a board-certified anesthesiologist to ensure the highest degree of patient safety.
Please refer to the following form published by the American Society of Plastic Surgeons.

Like many surgical procedures, some pain and discomfort are expected with breast reduction. However, prescribed medications and wearing a support bra will drastically diminish the amount of discomfort that exists. The pain experienced from a breast reduction procedure can range from sharp discomfort to dull soreness. Your breasts may feel sensitive or even numb for some time after breast reduction due to manipulation of breast tissue.

The results from breast reduction are generally permanent unless an adverse reaction or complication develops. The breasts will, of course, continue to age naturally after the procedure. There is also a slight chance that, due to hormonal changes in life, the breasts can re-enlarge. To maintain optimum results, patients should refrain from gaining significant weight and need to wear the proper bras for support.

This is dependent on the type of work you perform. Many patients with office jobs only require only 1 to 2 weeks. However, patients who perform heavy labor may require 4-6 weeks to recover. You will not be able to do any heavy lifting for at least 4 weeks.You may drive when you are off narcotics and feel confident to control the car, even in an emergency. Most patients are able to drive within 1-2 weeks.