SKIN PROCEDURES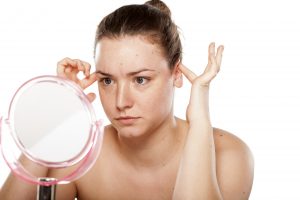 The skin is the largest and one of the most complex organs in your body. It is your body's first line of defense against bacteria and trauma, it regulates temperature, and is helps us sense the world around us. Unfortunately, the ravages of time, environmental factors, and the sun can create damage to our skin. We can lose collagen, elastin, and the defense functions of our skin. As a result we see wrinkles, sagging, pigmentation disorders, and even skin cancers. Dr. Graham is expertly trained to treat all of these issues. Graham Plastic Surgery prides itself on offering the latest and most effective scientifically proven treatments. We can improve your skin quality, tone, and texture and we can remove and reconstruct any skin cancer that may arise. This expertise is all by virtue of our advanced training and board certification in plastic surgery.
SKIN CONDITIONS WE TREAT INCLUDE:
Skin Cancer

Warts/Benign Skin Lesions

Scars

Melasma

Skin Pigmentation

Skin Wrinkles(Botox and Fillers)

Sagging Skin

Acne Scarring

Dark Under Eye Circles
WHAT TYPES OF CHEMICAL PEELS ARE OFFERED AT GRAHAM PLASTIC SURGERY?
We offer a variety of peel choices at Graham Plastic Surgery. These are all medical grade peels that you can only get at a physicians office. Our focus is on results. We don't offer it if it doesn't work…period.  We primarily offer peels that result in little to no downtime, although we can perform more aggressive peels if necessary. The peels we offer are listed below:
HYDRAFACIAL MD(Glycolic and Salicylic Acids)
OVERVIEW

The HydraFacial MD uses vortex technology to cleanse, exfoliate, extract, hydrate, and protect your skin.  It provides immediate results with no downtime or discomfort. The HydraFacial treatment is appropriate for all skin types, and targets issues such as fine lines and wrinkles, oily skin, sun damage, uneven skin tone, and dry skin. In addition to immediately exfoliating the skin and cleansing your pores, Hydrafacial MD also applies glycolic and salicylic acids to the skin. These can be applied in a variety of concentrations. There is no downtime and you look great immediately. You can get similar treatments at a local salon or spa, but you won't get similar results. This is because the most effective higher Glycolic Acid concentrations are only available at Graham Plastic Surgery.

WHY CHOOSE THE HYDRAFACIAL MD?

Hydrafical MD is a great peel for the days before a big event. Results are great from day one and even better on day two. This is why this peel is the "go to" for celebrities before a red carpet event. The Hydrafacial MD treatment is ideal for just before weddings, reunions, or important meetings. Your skin will glow and you'll look younger and refreshed.
VIPEEL®
OVERVIEW

We offer the VI PEEL®.  These are superficial to medium depth chemical peels.  This line of peels maximizes the benefit of a chemical peel and minimizes the complications of pain, prolonged recovery, and risk of scarring.  There are several peel options that are modified based on the condition you are trying to treat (ie. acne, pigmentation, wrinkling). Unlike other chemical peels, the VI Peel® treatments are virtually painless, require no skin pre-conditioning, and deliver results in as little as 7 days.  These peels are also multi-taskers, nurturing skin with vitamins and minerals while going through the exfoliation process.  The peels are the suitable for the face and body.  VI Aesthetic products are practical, well-rounded, effective, and efficient.

WHY CHOOSE THE VI PEEL®?

VI Peels represent the next generation in chemical peels. Each treatment is virtually pain free and includes a specifically formulated post peel kit which is essential for your treatment's success, ensuring optimal and lasting results. VI Peels are safe for all skin types, including darker skin tones, and offer specifically designed treatments that are convenient with minimal down time to address:

ANTI-AGING
PIGMENTATION/MELASMA
ACNE PRONE SKIN
SENSITIVE SKIN
GLYTONE®CHEMICAL PEELS
OVERVIEW

Glytone® has been revolutionizing skincare since 1943. Glytone® history started with two pharmacists making topical dermatological skincare products in collaboration with a dermatologist. The brand was built upon the innovation of Free Glycolic Acid and its benefits to the skin. Since this time Glytone® continued to be at the forefront of dermatologic and skincare research.In 2002 Glytone® became part of PIERRE FABRE®group, an international company built on the principles of scientific precision, ethics and dedication to innovation in health and beauty.Glytone® is the only US brand to exist within the company.  The two Glytone peels that we are excited about offering at Graham Plastic Surgery are the Glytone Professional by Enerpeel®Eye and Lip Peel and theGlytone Professional by Enerpeel® Hand Peel.

GLYTONE PROFESSIONAL BY ENERPEEL® EYE AND LIP

Glytone Professional by Enerpeel® Eye and Lip addresses mild-moderate photo-aging of eye and lip area. The combination of 15% lactic acid and 3.75% trichloracetic acid has shown consistently beneficial results in treating dark under eye circles. In 2013 Vavouli et al. demonstrated in the Journal of Cosmetic Dermatology that a almost all the patients using this peel combination showed significant esthetic improvement. Physicians assessed a fair, good, or excellent improvement in 93.3% of the patients. Patient's global assessment rated a fair, good, or excellent response in 96.7% of the patients. The procedure itself had only mild and temporary adverse effects, such as erythema, edema, frosting, dryness, and telangiectasias. The effects of treatment remained for at least 4-6 months in the majority of patients with appropriate sun protection.

GLYTONE PROFESSIONAL BY ENERPEEL® HAND PEEL

Glytone Professional by Enerpeel®Hand Peel is a combination of Water, Trichloroacetic Acid, Lactic Acid, Dimethyl Sulfone, Alcohol Denat., Dimethyl Isosorbide, Propylene Glycol, Kojic Acid. It is designed to treat mild-moderate photo-aging of hands. It reduces the appearance of dark spots, fine lines, small scars and coarse wrinkles on the hands. It gives an immediate skin brightening effect and it improves skin texture and tone.
PLEASE FILL OUT THE FORM BELOW TO SCHEDULE YOUR CONSULT!