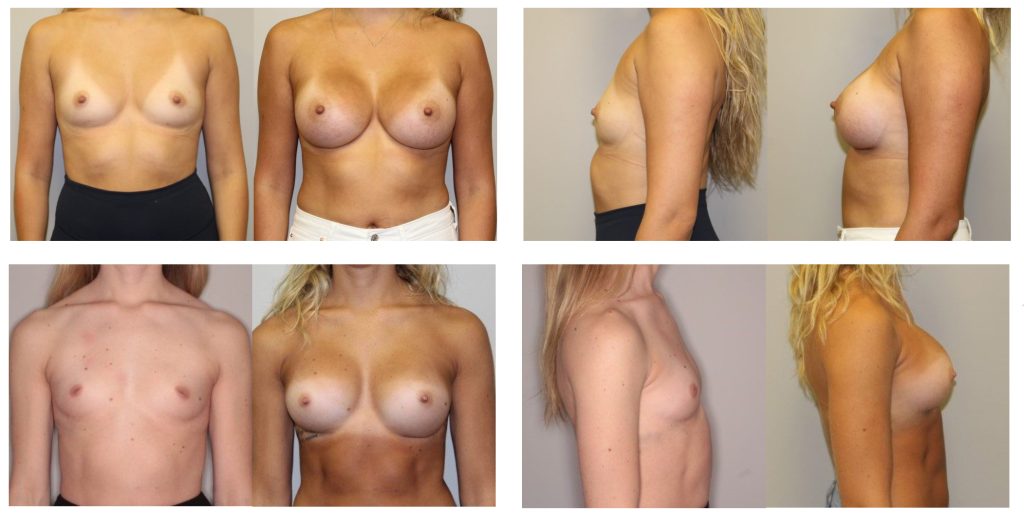 See More Breast Augmentation Plastic Surgery Before And After Photos
Before and after images serve as a good visual aid to help you understand the cosmetic changes that will occur after having you undergo a breast augmentation surgery. During the initial consultation, you should set aside enough time for reviewing maximum number of breast augmentation before and after photographs.
You will be in a better position to make a confident and realistic decision after knowing what a procedure can or cannot do for you. Board certified plastic surgeon Dr. David Graham provides breast augmentation surgery to patients in Rochester, NY, and surrounding locations.
Pictures Speak More Eloquently than Words
Images are usually more powerful than words. They tell the story as it is without leaving any room for misinterpretation. This is why dedicated surgeons prefer presenting breast augmentation before and after pictures at the very first appointment.
It is possible for the physical improvements to show over a period of time. For some patients, the images may be taken over several weeks or months. This will give you a clear idea about the actual progress of the breast augmentation cosmetic surgery results. You should also consider how the results compare with the patient's appearance before the surgery.
You are in a better position to visualize benefits and have higher satisfaction levels once you go ahead with the breast enhancement procedure. Risk of disappointment is minimized after reviewing before and after pictures.
Not only do these images speak volumes they are digital in quality so they speak even more words because of the quality of the image. Gone are the days when we have to rely on some vague brochure or some dated picture book. With all those pixels, you can pretty much predict the future when seeing these images and easily apply them to your own situation.
Creating Confident Choices
Breast enhancement procedure is a major decision. It can get difficult to make a confident and clear choice when thinking of making dramatic changes to your physical appearance. You can use before and after images to put your mind at ease. It's natural to believe that if the procedure achieved desirable results in other women, it will help you too.
Breast augmentation plastic surgery is a customizable procedure. You will need to decide the type of incisions, implant placement, size, quality, and shape of breast implants after consulting with your surgeon.
Images with Accompanying Text are Impactful
Before and after images of breast enhancement procedure may be accompanied with succinct descriptions. These are to explain the finer details of the procedure. Patients can better understand and appreciate the results by looking at these images. They can make a better decision as well.
The goal of a dedicate cosmetic surgeon will be to make the consultation process as transparent and simple as possible. The surgeon will educate you on all aspects of the procedure.
But with these amazing images you can decide whether or not you want to proceed or not. No where in history has the patient or the average person been given this much information. Privacy may be going away in some ways in our society but in other ways it's even stronger.
These online images make the consultation quicker and easier in many cases because someone already knows what to expect. This mean both parties are on the same page which means the process can be even smoother. Graham Plastic Surgery has satisfied so many people from all walks of live it cannot be calculated.
Sharing the Images Online
Before and after images may be shared by the breast implants surgeon online in various formats, such as:
Online gallery: Use YouTube, SlideShare, or your own website for creating a before and after image gallery. This is the situation here and Dr. Graham's drop-down menu to see the image category that you want is simple in nature and profound in scope.
Digital Portfolio: Cosmetic surgeons may present a comprehensive digital portfolio of before and after images of patients that had the surgery before.
Blog posts: Images can be added to blog posts for boosting impact of text.
Social media: Pinterest, Instagram, and Facebook among other social media platforms provide excellent image sharing opportunities.
Cosmetic surgeon Dr. David Graham receives patients from Rochester, NY, and nearby areas for breast augmentation surgery.
Contact Board Certified Plastic Surgeon, David Graham, MD, in Rochester, New York
To learn more about the plastic surgery treatments and procedures performed by Board Certified Plastic Surgeon, David Graham, MD please contact us.
View our plastic surgery and med spa procedure pricing.
Dr. Graham receives patients from Rochester, Victor, Fairport, Pittsford, Brighton, Irondequoit, Henrietta, Syracuse, Buffalo, New York and surrounding areas.