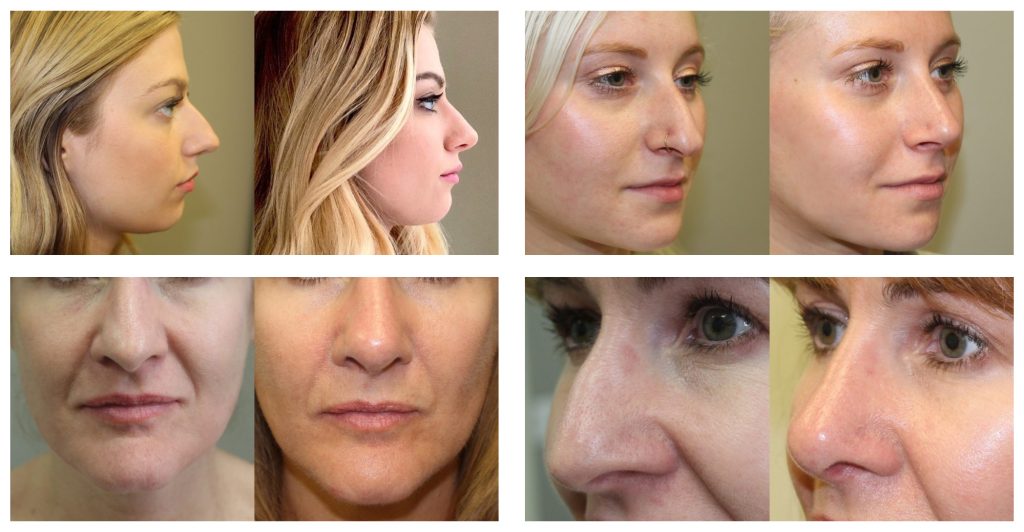 See More Rhinoplasty (Nose Surgery) Before And After Photos
Rhinoplasty is one of the five most popular cosmetic surgery procedures performed in the US. There are over 250,000 procedures performed in a year. During the pre-treatment consultation, your cosmetic surgeon will discuss the various aspects of the nose reshaping plastic surgery. This is to help you make a well-informed decision.
In addition, you will be shown rhinoplasty before and after images as well to help you set reasonable expectations. Board certified plastic surgeon Dr. David Graham provides rhinoplasty or nose surgery to patients in Rochester, NY, and surrounding locations.
Overview of Nose Surgery Before and After Pictures
The plastic surgeon will present you with a set or collection of before and after pictures of other people that underwent the same procedure. These pictures are usually taken when the post-operative swelling and bruising have subsided so that potential patients can observe complete results.
It is important the images be taken only with the express consent of the treatment providers. The pictures should be shown to new or potential patients with discretion. Patient identity is generally kept confidential as per standard protocol. The sole purpose of sharing these before and after pictures is to help new patients understand the benefits and limitations of the nose job procedure.
What's even more remarkable is that these images can be seen anywhere. We know Dr. Graham did not invent 5G or the internet but to put your work so people can see what to expect is a sign of respect because it allows anyone to save time. They don't have to make one phone call to make a decision.
Now the depth of Dr. Graham's work is on digital display with moves us over to the realm of transparency. We may not see our politicians being that transparent in DC along with our celebrities but in the elective surgery world, transparency is critical.
Adding Descriptive Text to Images
Patients find it helpful to read descriptive text along with images. The text should explain the reasons for performing the procedure and the manner in which it addresses the unique concerns of patients. Nose reshaping cosmetic surgery can be better understood by new patients after getting to know the experience of former patients. Images become more potent when accompanied with self-explanatory text.
Sharing Rhinoplasty Images Online
Nose job before and after pictures can be shared by surgeons using the following avenues:
Image gallery: Potential patients can better understand the procedure after looking at before and after picture gallery on the practice website. This is the case here and you can see these images from the Vatican in Rome or during a break at your kid's school play.
Portfolio: Another great way of displaying before and after images is through picture portfolio.
Blog posts: Value of blog posts can be enhanced by images.
Social media: Images act as an important optimization tool for posts on social media.
These avenues make it easier to educate potential patients about the advantages of a procedure. Surgeons can also create a comprehensive rhinoplasty before and after image gallery as an informational and promotional tool for their practice. These image galleries can be used for highlighting the skills and expertise of the surgeon.
Posting Images on Instagram
Rhinoplasty plastic surgery 'before and after' pictures can be shared on Instagram. Surgeons can do this in addition to displaying the pictures on their practice websites. However, it's prudent to exercise discretion while posting pictures on social media. Potential patients can look at the pictures online and decide whether they want to speak with a surgeon about it or not.
Instagram Slideshows and Stories are an attractive way of showing nose surgery before and after images. With millions of daily active users, social media networks such as Instagram provide an effective way to disseminate information and educate patients about rhinoplasty. Cosmetic surgeon Dr. David Graham receives patients from Rochester, NY, and nearby areas for nose job.
Contact Board Certified Plastic Surgeon, David Graham, MD, in Rochester, New York
To learn more about the plastic surgery treatments and procedures performed by Board Certified Plastic Surgeon, David Graham, MD please contact us.
View our plastic surgery and med spa procedure pricing.
Dr. Graham receives patients from Rochester, Victor, Fairport, Pittsford, Brighton, Irondequoit, Henrietta, Syracuse, Buffalo, New York and surrounding areas.